Many Mercedes/ Dodge Sprinter Van owners choose this 300 Amp hour lithium-ion battery for their van conversions. As this battery can be installed on its side, this reduces the height measurement to 8.02". Please inform us of the intended orientation of the battery before ordering.
Click on the PDF logo to the right for the Lithionics Battery spec sheet in PDF format.
The Lithionics Batteries are "lithium-ion" which is the short term for lithium iron phosphate and the chemistry name for the batteries is the super safe and reliable "LiFePO4".
This Lithionics lithium-ion high performance battery is available WITHOUT the NeverDie BMS for $4,288.49 USD. Use Part # GTR 12V300A-5D-DIN-S-Module or GTR 12V300A-5D-DIN-T-Module (comes with 1 foot DIN cable assembly). Available in 2 different cabling options: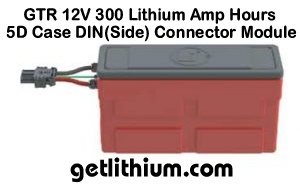 The above case measures 24" x 8" x 13.04" height. Add some extra space to the length for the cabling (we can provide longer 2 gauge cable if needed).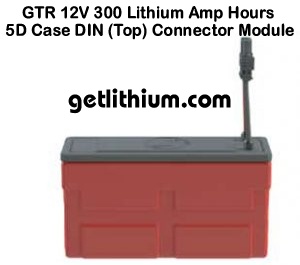 The above case measures 24" x 8" x 13.04" height. Add some extra space to the height for the cabling (we can provide longer 2 gauge cable if needed).
Sample installation photo of 2 of these batteries installed on an RV: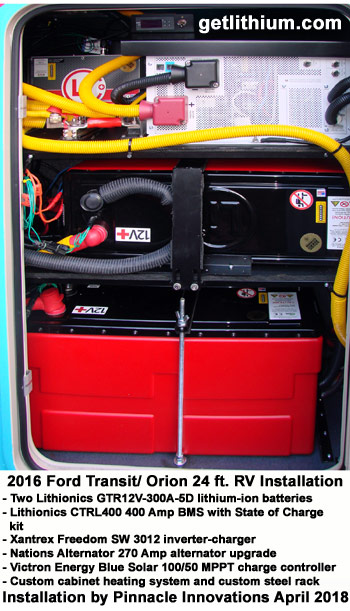 This high performance lithium-ion battery is also available with the 400 Amp rated Advanced Version 8 internal BMS with the 23 pin Ampseal for $6,191.13 USD (includes SOC kit sending unit for the Lithionics external SOC gauge).
A great, lightweight lithium ion battery with 300 Lithium Amp Hours Reserve Capacity, 720 Reserve Capacity (RC) minutes and 3,840 Total Watt Hours capacity. CTRL400 NeverDie means this lithium-ion battery is rated for 300 continuous Amps draw or 400 Amps peak. Recommended charge rate is 150 Amps, max. charge rate is 300 Amps.
This extremely versatile battery can be used for a wide variety of applications including Deep Cycle House Power for RV and Marine applications as well as a diesel engine cranking battery for Truck Engines and for Marine Engine Starting (including Outboard Marine Engines) on sailboats and yachts. NeverDie Battery Management System included (pushbutton reset/ shut down).
This battery is a dual-use battery: Deep Cycle Battery House Power or as a Primary Engine Starting Battery or Main Vehicle Battery. Lithionics lithium-ion batteries are the ideal solution for Solar Power Harvesting and Off-Grid Electrical Energy Storage as they harvest more energy than lead type batteries.

Use the Currency Converter Tool below for Prices in your Local Currency:

OPTIONS:

This battery is available with convenient carry handles for an additional $134.64 USD.

We also offer a "Cold Weather Protection System" for this battery:


Lithionics Internal Lithium-ion Battery Heater Kits Type 1 and Type 2 for Version 8 external BMS


Theory of Operation:
The heater kit is a convecting type heating system internal the battery or module that applies and average of 30 Watts per hour (at -4F/-20C continuous ambient temperatures) and is controlled by a thermostat. The thermostat maintains the lithium cell/core to a temperature between 35 and 40 degrees fahrenheit. This permits sub-freezing charging operations.


Type 1:
$379.44 USD

Type 2:
$488.24 USD

EXTREME CONDITIONS: We also sell a product called "Dynaliner" that is an


external thermal protective wrap with a K Value of .3.


This "Dynaliner" material is .5" thick and non-conductive.


This option is recommended for extreme temperature situations for $295.50.

Battery "Feet": We can add special mounting feet at the base of the battery


for many installations that use a "bolt-down style plate" at the base


of the battery to secure the battery in place. These can be ordered on any or all

4 sides of the battery for an additional $24.50


PRICING:

2.25% Discount For Wire Transfer, Cheque, Debit or Cash Payments.


Fleet Pricing, and Volume Discounts also available.

Prices may be lower for in-stock items or for multiple items ordered


in a single shipment.
* All Prices Subject to Change. Shipping/ Freight is extra.
Notes:

1 Lithium Amp Hour = 2 Lead Acid Amp Hours in 12 Volt applications, 2.5 Ahr in 24 Volt applications and 3.5 Ahr in 48 Volt applications.

Lithionics Battery Charging Parameters:



For Lithionics 12 Volt lithium-ion battery systems:


Charge 14.4 Volts - 14.6 Volts. Float 13.4 Volts.


High Voltage Cutoff (HVC) 15.6 Volts.



For Lithionics 24 Volt lithium-ion battery systems:


Charge 28.8 Volts - 29.2 Volts. Float 26.8 Volts.


High Voltage Cutoff (HVC) 31.2 Volts.



For Lithionics 36 Volt lithium-ion battery systems:


Charge 43.2 Volts - 43.8 Volts. Float 40.2 Volts.


High Voltage Cutoff (HVC) 46.8 Volts.



For Lithionics 48 Volt lithium-ion battery systems:


Charge 54.75 Volts. Float 50.25 Volts.



For Lithionics 51 Volt lithium-ion battery systems:


Charge 58.4 Volts. Float 53.6 Volts.



For modern, programmable 3rd party inverter/chargers etc.,


we recommend using the "CCCV" (Constant Current,


Constant Voltage) setting. Otherwise, the "GEL" battery


setting may be used or configure "Custom Settings".


If in doubt, please contact us.

Lithionics Battery requires Customers to purchase one of our low-cost "KF series" smart lithium-ion battery chargers when you purchase one of our smaller "Engine Starting" lithium-ion batteries.
Click here for details on the KF series Battery Chargers...
Lithionics Battery Lithium Ion Battery Life:

5,800 cycles at 50% Depth of Discharge
3,000 cycles at 80% Depth of Discharge

2,200 cycles at 90% Depth of Discharge
Our batteries typically have a 10 Year+ Service Life

Lithium Ion Battery Industry SAFETY LEADER: Approved to U.N. International D.O.T. 38.3 for Lithium - many BMS and battery models also UL approved.
NEVERDIE SYSTEM NOTES AND FREQUENCY OF CHARGING:
A.) The "Pushbutton NeverDie System" has a continuous Amperage draw of 2 Milliamps.

B.) Some of our Lithionics Battery lithium-ion batteries can be ordered with either "Pushbutton NeverDie System" (A) which is the BMS built into the battery or can be ordered with the "External BMS box Pushbutton NeverDie System" (B). As such, our smaller batteries will likely need some recharging every 2-4 months to compensate for the small amperage draw (.002 Amp) of the NeverDie System. Please be sure to ask about this at time of ordering or check the Lithionics Storage Procedure Guidelines.

If your application also has a small "Parasitic Drain" (clock, alarm system etc.), this must also be factored in and the battery charged in accordance with the total amperage draw.
Lithionics Battery lithium-ion batteries are 98% EFFICIENT FOR SOLAR POWER. Compare that with only 55% to 85% efficiency for other types of batteries including deep-cycle lead acid batteries. Lithionics Battery lithium-ion batteries also charge from 2 to 10+ times faster than other batteries, which gives you more use out of your lithium-ion battery. Visit our Solar Power page...
We also offer a great selection of solar panels suitable for RV's, yachts and sailboats of all sizes - including durable flexible solar panels that can be walked on.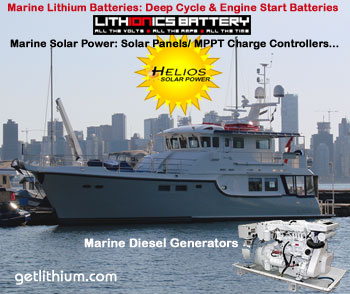 Battery Meters/ State-of-Charge Meters and Gauges are also available at additional cost. For multiple battery systems, our Neverdie Control Box may also be required.